Poitiers, a university capital
With 26,000 students, among which nearly 4,000 forein students from 117 countries, Poitiers is a university capital. The city and its suburbs live at the same rhythm as the university schedule and activities. This strong student life contributes to a daily animation of the streets, squares and cafés.
A university capital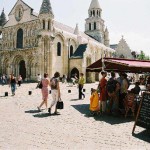 Capital of the region Poitou-Charentes, lively and dynamic, Poitiers combines with talent, quality of life (citizenship and environmental values), economic and university activity. A vast number of cultural and leisure events liven it up throughout the year and it is possible to practice almost all sports activities thanks to numerous facilities.
So, it is quite natural that Poitiers should regularly been mentioned as one of the most attractive French cities of less than 300,000 inhabitants.It is located one hour away from the Marais Poitevin and the Cognac vineyards and less than two hours from the beaches of Charente-Maritime and Vendée as well as the Loire Valley chateaux. Thanks to its location, it enjoys the strong influence from other areas thanks to the high speed train (it takes 1:30 from Paris and 1:45 from Bordeaux) and the air connections.
Situated in an area of art and history, the birthplace of Romanesque art, Poitiers has an exceptional wealth of more than 80 buildings listed as historical monuments.Poitiers is also one of the most ancient universities in Europe (1431). Today Poitiers has 25,000 students and 88,000 inhabitants (125,000 in the metropolitan area).
Vienne, the country of Futuroscope
With nearly 2 million visitors a year, 1,000 employees and several thousand spinoff jobs, Futuroscope has become the main axis for the development of the Vienne department both at the national and regional levels.
Since 1985, its expansion has relied on the presentation of new shows, developed each year, ensuring the international fame of the region.
The Futuroscope Park's activity is original on the theme park market, between entertainment and educational discovery. The Futuroscope Park's mission is to entertain families and arouse curiosity thanks to the strength of emotion and imagination.
Tomorrow starts here and now!
Only 80 minutes away from Paris on the high speed train, the Futuroscope technology centre spreads over 200 hectares with 60,000 m² of high-tech offices. On the European Theme Park's doorstep, near Poitiers, this area of advanced telecommunications has already attracted 150 companies (multimedia, call centres, e-business), almost 3,000 students and more than 700 researchers. An original concept from the County Council, the technology centre has become a unique reference site in France, where the activities of tomorrow are starting.