Practical information
Environment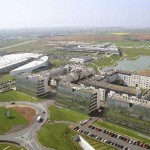 Located since 1993 on the Futuroscope site, 12 km away from Poitiers, the buildings, with a futuristic architecture offer to the students a pleasant environment.
A large number of apartments (CROUS, Habitat de la Vienne…for one, two or three persons with eligibility for housing allowance) and an university restaurant, banks, a post-office, bakeries and a shopping center enable the students to line on campus.
A bus service provides a regular link with Poitiers which, by the high speed train, is 1h30 away from Paris, 1h40 away from Bordeaux and 1h30 away from La Rochelle. The exit "Futuroscope" links the site to the Paris-Bordeaux highway (A10).
Accommodation
The CROUS (Association in charge of student accommodation) of Poitiers has two residence halls on the Futuroscope site: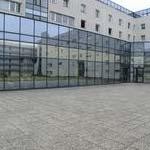 Residence Gemini: Téléport 2, 8 avenue Blaise Pascal, BP 90176, 86960 Futuroscope Chasseneuil cedex. Tel: +33 5.49.49.85.02. Bus line: # 9. Accommodation for one or two persons, depending on vacancies. Available underground car parking spaces. Laundry.
Residence Centre de vie: 20 rue du Belvédère, 86130 Jaunay-Clan. Accommodation for one or two persons, depending on vacancies. Laundry. The residence hall is 3 km away from ENSMA, served by a bus line. All the residence rooms are provided with kitchen, shower and toilets; but not with linen and crockery. They entitle students to get APL (financial aid for accommodation). About a hundred beds, in both residences, are reserved for 1st-year ENSMA students when they arrive.
Habitat de la Vienne: (an accommodation organisation) owns 3 residences (Altaïr, Pégase and Morphée) on the Futuroscope site, close to Gemini, within a stone's throw from the school. Flats can accommodate one to four persons, but are unfurnished. Habitat de la Vienne Futuroscope : 14 boulevard des Frères Lumière, 86960 Chasseneuil-du-Poitou. Tel: 05.49.18.55.65.
Residence Les Amandiers: 6 rue du Grand Tillet, 86130 Jaunay-Clan. Tel: 05.49.62.80.40. Furnished flatlets with fully equipped kitchens (hotplate, fridge and microwave), bathroom, toilet and terrace outside the flat. Located 2km away from the school, in the middle of a 4-hectare park. Laundry, swimming pool, bar.
Résidence Eolia : téléport 3, rue rené Descartes, 86961 Futuroscope Chasseneuil. Flatlets, for one or two persons, furnished or not. Laundry, elevator, car park, parks. About 7 minutes away from the school on foot. Information: 05.49.88.07.01, immo-pierreval.com
Résidence Les Estudies: 16 avenue du Parc du Futur, 86130 Jaunay-Clan. For one person, furnished, laundry, 15 minutes from the school on foot. Information: 05.49.88.07.01, immo-pierreval.com
University restaurants
Restaurant universitaire Gemini: téléport 2, 8 avenue Blaise Pascal, BP 90176, 86960 Futuroscope Chasseneuil cedex. Tel: 05.49.49.85.01. ru.futuroscope@ac-Poitiers.fr
Opening hours: 11.30 a.m. – 1.30 p.m. Full menu, pasta and grilles meat.
Possibility to eat in brasseries, sandwich shops, pizzas and other fast food restaurants in the area (www.futuroscope-technopole.com).
Sport at ISAE-ENSMA
Sports and physical activities have always been part of the school's curriculum. It gathers students from the three years. Among the many possible activities let us quote :
collective sports: basketball, soccer, rugby, handball, volleyball…
individual sports: climbing, body building, tennis, swimming, badminton, cross-country race, athletics…
For all these activities, supervised by three teachers, the school has exceptional facilities at its disposal :
a gymnasium with 3 tennis courts, 9 badminton grounds, wall and artificial structure climbing. A body building room can also be found there
4 outside tennis grounds
1 soccer/rugby ground
1 cross-country race trail and an athletics area
Tournaments are organized every year :
within the framework of the FNSU (National Federation of University Sports)
for more than 50 years with the 3 aeronautics schools of Toulouse (ISAE, ENAC)
with the other ENSIs (Ecoles Nationales Supérieures d'Ingénieurs)
Services of student life
The CROUS has for mission to favor and improve the student's living and working conditions. It will give you information about accommodation, grants, temporary jobs, cultural activities…
The student social service is composed by welfare officers from CROUS and university preventive medicine service.
The welfare officers welcome all the students from Hiher Education, whatever the Ministry they are attached to, and provide a social activity on all academy sectors of activity (a service is manned on Angoulême, Niort, Châtellerault and the site of Futuroscope).
The welfare officers are able to:
help you to overcome personal, material, psychological , health, adaptability or career guidance problems,
give you information about how to finance your studies,
give you information about student law.
If you have financial problems, a welfare officer can help you to apply for financial help on existing relief funds: the Fnau (Fonds National d'Aide d'Urgence). The welfare officer will present it to a social commission.
Do not hesitate to contact the welfare officers.
In the "iCrous" space, you could see the list of the welfare officers, according to your place of study.