As a public, responsible and educational institution, ISAE-ENSMA has integrated social and environmental concerns into its dual training and research mission.
The school is thus committed to a civic approach:
– by carrying out an active policy concerning the handicap, aiming at improving its competences in the implementation of the adjustments necessary to welcome and accompany the pupils in their course;
– by initiating actions that make its staff and students aware of energy and climate issues: GHG assessment, green plan, control of fluid consumption, major events (seminars, conferences, climate fresco, Climate Emergency week, etc.), new lessons introduced in the courses;
– by implementing a policy on gender equality, concerning both staff and students. ISAE-ENSMA benefits, among other things, from the support of the association "Elles Bougent", of which the school has been a partner since the creation of the association;
– by taking steps to prevent psychosocial risks. A unit for managing these risks has been created to prevent and deal with sensitive or degraded situations.
The school works actively on a disability policy aimed at improving skills in implementing the facilities necessary to welcome and support students.
This permanent concern has led, beginning of 2020, to the introduction of the portability of special fittings : any student suffering from an established disability who has previously benefited from specific arrangements, will be granted, upon presentation of previous notifications, identical conditions. In order to adapt, a meeting with a doctor approved by the CDAPH ("Commission des Droits et de l'Autonomie des Personnes Handicapées") will be proposed during the academic year to allow the implementation of such support.
For students who have never benefited from specific arrangements, an appointment with a CDAPH -approved doctor will be proposed as soon as they arrive at school so that they can benefit from the service as soon as possible.
In both cases, for installed disorders certified by the doctor, the student will benefit from the permanent accommodations that have been granted for the entire duration of studies at ISAE-ENSMA. This support may be re-examined in the event of a change in circumstances.
All students with disabilities (whether officially recognized or not), students with health problems such as sensory impairments (hearing or visually impairment), physical, psychological or specific learning difficulties (special needs) disorders, autism spectrum conditions and long-term medical conditions are welcome to contact the school at referenthandicap@ensma.fr for assistance.
Useful links
Découvrir d'autres épisodes :
Sustainable development and CSR: ISAE-ENSMA is committed
Initiated in 2009, a think tank called GRDD has been responsible for periodically carrying out the GHG assessment (scope 3) of ISAE-ENSMA. It has been done five times. Awareness-raising activities have been organised to disseminate the essential elements of the societal challenges we are facing: energy transition, global warming, etc. Conferences, exhibitions, events and regular information are offered.
For example, in 2015, a permanent exhibition was set up at ISAE-ENSMA for the duration of the COP21 held in Paris. The aim was to raise awareness and inform students and staff about the ins and outs of this major event. The year 2018 saw several events: participation in the national operation "Tour de France Agir Ensemble" (Acting Together), a GRDD reflection group which became GActionDD to stimulate new operations and proposals with an impact. The year 2019 saw an intensification of actions in the direction of the DDRSE. Two major events took place: the national Eco-Campus 4 conference was jointly organised by the University of Poitiers and ISAE-ENSMA, and strong awareness-raising events were organised during a week called "UrgenceClimat week". Several conferences (FM. Bréon, L. Castaignaide, V. Liégey, etc.), low-tech workshops and activities punctuated this event, which has become a permanent fixture.
In addition to raising awareness, the school is strongly committed to controlling its fluid consumption (efficient boiler, building insulation, optimised electrical management). New courses have been introduced in the graduate engineering program. Since 2020, the "climate fresco" has been animated by numerous speakers at the beginning of the academic year for new students. A student association, the BASE, participates in these developments, interacts within the ISAE Group, and initiates strong actions (participation and commitment of ISAE-ENSMA to the COP2 of Grenoble 2021 for example).
More generally and recently, ISAE-ENSMA has included this theme of sustainable development and CSR in the multi-year contract signed with the government. A green plan guides the various ongoing and forthcoming actions in order to eventually obtain the institution's label.
Controlling our environmental footprint and reducing our emissions, training our young people in these major challenges, and developing a local link. These are some of our objectives.
And since 2019, ISAE-ENSMA has held the label "Agir Ensemble pour des campuses durable en ville durable" to reward its policy aimed at accelerating the ecological and energy transition on its territory: actions carried out with regional partners (Grand Poitiers, Université de Poitiers, CROUS), mobilization of school staff and students (conferences, new courses, UrgENScliMA week, etc.), evaluation and management of consumption, inclusion of the Sustainable Development theme in the school's multi-year contract.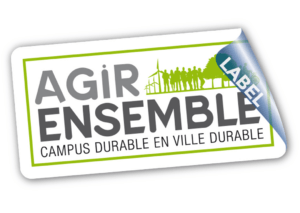 In December 2013, ISAE-ENSMA joined the Charter for Equality between Women and Men in Higher Education and Research Institutions. The signing institutions undertake to implement a common policy on Gender Equality: this commitment concerns students as well as all staff and the governance of the institution.
The main points to be respected and which are the subject of actions are the following :
– raising awareness of professional equality among all students and staff;
– vigilance on sexist behaviour by students and staff;
– incorporating the rules of equality into all the school's documents and information materials;
– introduction of gendered data for surveys and professional assessments targeting staff (study by socio-professional category, levels of responsibility, etc.);
– introduction of gendered data for each graduating class; results, employment data;
– implementation of an upstream attractiveness policy for the involvement of women in the scientific and technical professions.
In addition, ISAE-ENSMA can benefit from the support of the association "Elles bougent", of which the school has been a partner for several years.
Since 2014, documents such as the anuual social report or the employment data survey have provided in-depth gender-based data and analysis. This information enables ISAE-ENSMA to provide the CGE (Conférence des Grandes Ecoles) with the "Equality Barometer", a common document for the Grandes Ecoles on gender equality. In addition, a public presentation summarising this data is given each year by the equality adviser.
Since the start of the 2018 academic year, reception and listening cells have been created in each university, in order to allow all victims to benefit from support and support in the event of gender-based and sexual violence. Find information, a listening ear, help:
– university health service of the University of Poitiers: infirmiers@univ-poitiers.fr
– social workers from the University of Poitiers: social@etu-poitiers.fr, 0 805 29 75 75
– 3919, a free and specialized telephone number, which guarantees your anonymity
– in case of emergency, 17, or by SMS to 114, 115 for emergency accommodation via the SAMU social
– the platform for reporting gender-based and sexual violence
– all the information if you are looking for psychological help