The Erasmus+ program

The ERASMUS program has existed since 2014. Its aim is to promote mobility and cooperation projects in Europe. The Erasmus+ program is designed to enhance skills for greater employability, support innovation and internationalization within educational and training establishments and organizations, promote transparent and consistent use of tools for recognizing and validating skills at European level, and foster cooperation between European and non-European countries.
A staff mobility, why ?
It is an opportunity to…
Strengthen relationships and partnerships with colleagues and partner universities
Exchange best practices in all business areas
Discover different working methods
Develop new skills
Practice or learn a foreign language
Discover a university, a city and a culture…
Mobility types
– At a partner university (11 countries, 26 partners)
Minimum 8h of teaching per week of mobility
– Training weeks on various topics (Staff Training Week)
– Exchanges of best practices and/or Job Shadowing
For teaching and administrative staff
Maximum of 5 days of activity
⇒ In a European country participating in the Erasmus+ program
How to apply ?
You are responsible to find the course that interests you (personal research). For mobility within a department of a partner university, the International Office will help you make contact.
– Applications must be submitted to the International Office by November at the latest.
– Application forms (teaching or staff) – available on ENT
– Prior approval from your n+1 or teaching department
– Selection by internal committee no later than early December
Selection criteria:
– A training project in line with the staff's career plan
– Internationalization of the school's practices
– Strengthening of cooperation agreements (teaching)
– Priority given to new mobility candidates
– Language level (if applicable): possibility of taking a free language test on the European platform
– Final admission depends on host organization
Financial aspects
Mobility is financed by European credits on the basis of 2 packages: the travel package and the stay package.
The school covers training costs, where applicable, as well as transport and accommodation costs, by issuing a mission order.
Organisation of your mobility
Before departure :
Preparing and signing the mobility contract
Booking travel tickets and accommodation on site
Request for a mission order
Advance payment of mission expenses
During your stay :
Signature of an attendance certificate
After your mobility :
Completion of an online report
Submission of supporting documents (travel tickets, hotel bills, certificate of attendance)
Payment of remaining mission expenses
The training :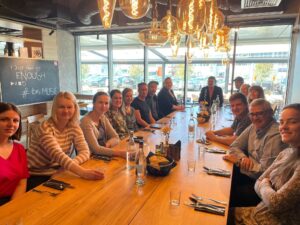 "A very good perspective on the daily problems of time management and the tools adapted to each person to improve their quality of life at work. A group of 17 learners from all over Europe (Spain, Portugal, Germany, Sweden, Czech Republic, Slovenia, Poland and France), with a wealth of cultures and experiences, which helped to raise problems and solutions on the theme addressed".
The environment :
"I was able to discover a very dynamic city that combines history and modernity in its architecture and culture. A wonderful discovery of Eastern Europe: magnificent landscapes for lovers of fresh air, plains, mountains, forests, lakes, plenty to see!"
Highlights :
"Meeting new people! These 5 days enabled me to exchange ideas with people from all over Europe on common issues encountered in our academic professions. A real plus for perfecting your English, exchanging best practices and expanding your international network.
The ENSMA + :
"The International Office helped me to live this adventure with peace of mind, and the support was great! Would I do it again? Of course!
The training :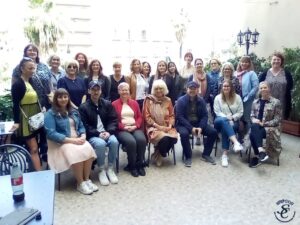 "On the theme of stress management, with a very rich content made up of theoretical presentations, group discussions and practical exercises (meditation, yoga…). A dynamic trainer with a wealth of professional and life experience, who managed to arouse the participants' interest and keep them motivated throughout the week. The exchanges between the twenty or so participants from all over Europe – particularly from Sweden and Eastern Europe – were very interesting, in a friendly atmosphere."
The environment :
"A city steeped in history, with an impressive Arab-Norman heritage listed by UNESCO, but with some neighborhoods in dire need of renovation. Affordable, lively, full of good restaurants (the food is very good!). Easy access by train to small Sicilian villages by the sea, such as Cefalù, a treasure !
Hightlights :
"Over and above the training and professional skills acquired, this kind of experience allows you to meet new people, improve your English, open up to the world… and develop your sense of belonging to Europe, which is one of the very objectives of the Erasmus+ program".
The ENSMA + :
"Once again, the International Office was available before, during and after my mobility, which enabled me to leave with complete peace of mind. Thank you again!"
Contacts
International Relations Office

Mrs Aurélie COTILLON – Tel : +33(0)5.49.49.80.16
Mrs Laura MONTOIS – Tel : +33(0)5.16.08.01.53
Mrs Maggy SOURISSEAU – Tel : +33(0)5.49.49.83.46