The 10th anniversary of the ISAE-ENSMA Business Forum
For the beginning of the year 2018, which marks the launch of the 70th anniversary celebrations of the ISAE-ENSMA, the school celebrated, on January 18th, the 10th anniversary of its business forum. All the students of the school – engineers, masters and doctors – were able to learn about the internships, trades and careers of the major groups of aeronautics, space, land transport, energy and energy. computer.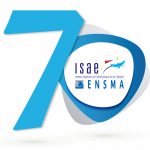 Companies, 20 in number, have never been so present: Dassault Aviation, Safran group, Airbus group, CNES, Thales, MBDA, Stelia, CEA, ONERA, Framatome, DGA, PSA group, Sogeti High Tech, Altran, Aeroteam, Ausy, Gerédis, Esterline, Apside, Assystem.